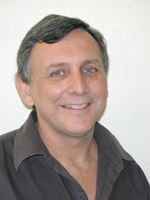 Andrew Blamey
Principal Architect
Qualifications
Registered Architect in NSW - no. 4504
(not a registered architect in other States of Australia)
Accredited Member Association of Consultants in Access Australia - no. 148
B.Architecture - University of Sydney
B.Science(Architecture) - University of Sydney
Grad. Dip. Counselling – Morling College
Andrew graduated in 1980 and became qualified as a 'Registered Architect' within three years of graduation. After five years of working in other offices and gaining valuable experience, he founded the practice and has maintained a personal involvement with all projects undertaken by the practice. He has had experience in a wide range of building types including; Educational, Church, Industrial, Commercial, Child care, Medical, Aged Care and Residential.
Practical and efficient construction is a particular interest of Andrew's. He likes to ensure that all designs are 'buildable' and likes to work 'Side by Side' with builders in the construction of projects. His early experience included a period as Project Manager for stage 1 of a retirement village. During this time, he was responsible for organising and managing its construction.
Through his personal involvement in groups for disabled persons, Andrew has developed a keen interest in designing buildings to cater for people with disabilities. Andrew has undertaken a consultancy with the Ageing and Disability Department in relation to housing options for people with disabilities and is accredited as an access consultant.
Buildings associated with churches, community and other related organisations are of particular interest to Andrew. He is keen to assist such groups in understanding their requirements and analysing their needs so as to be able to work with their architect effectively. He has had many years of involvement as a committee member in various organisations. This has also led him to develop systems of community liaison to assist groups with obtaining development approvals. The Baptist Union of NSW has recognised Andrew as a fundraising advisory consultant and he has assisted a number of churches with fundraising for their projects.
A number of the houses and church projects that Andrew has been involved with have been buildings with heritage listings. Through practical experience and working with the heritage committees of the local councils, Andrew has a developed an understanding of the issues of upgrading and extending heritage listed buildings. These skills were recognised by Hornsby Shire Council by the awarding of two Heritage Awards for the 'sensitively designed extensions and alterations to a heritage listed building'.
As with all professionals, Andrew is aware of the need for Continuing Professional Development through courses and professional publications and is actively involved as a member in a local area group of the Royal Australian Institute of Architects. He has recently completed post graduate studies in counselling.